Getting the ball rolling
Published: 26 April, 2022
Tagged with:
News and announcements

Northland/Te Tai Tokerau
Whangārei's innovative Rolling Ball Clock has been set in motion, thanks to the determination of a local group of volunteers and some well-timed funding from Kānoa – Regional Economic Development & Investment Unit.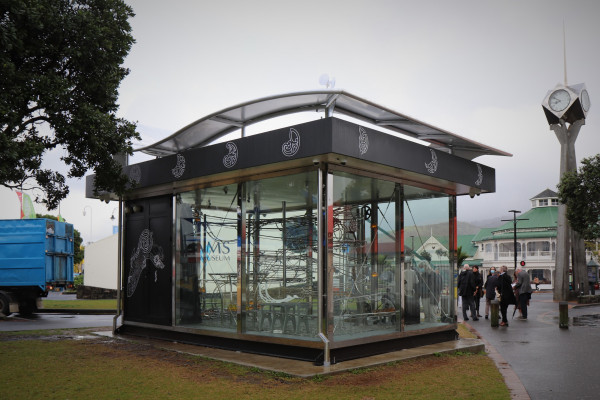 The 15-tonne, glass enclosed kinetic sculpture is believed to be the only one of its type in New Zealand, and at precisely 11 am on Thursday 7 April 2022, it swung into action.
The clock operates by setting 35 bowling ball-size spheres into motion, running a course that includes lifting bridges, a ball race and a mechanical man before finally telling the time.
The ball clock project is the brainchild of the 'About Time' trust, a group of Whangārei volunteers which includes engineers, designers, and would-be horologists, who were inspired by a small rolling ball timepiece at the nearby Claphams National Clock Museum in 2008.
In 2019, a $750,000 PGF grant from Kanoa – RDU allowed a large size, fully operational version to be built as a tourist attraction providing both educational and cultural values.
While earlier prototypes were made in a garage using begged and borrowed materials, the final version was made to order by local steel fabrication business Absolute Stainless. Other Whangārei companies, from engineering firms to metal recyclers, also contributed to the design and build.
This is the latest in a series of tourism and culture investments in Whangārei's Hatea Loop by Kānoa – RDU. Other notable projects it has funded include the Camera Obscura, Hundertwasser Art Centre and Wairau Māori Art Gallery.
Government investment in Whangārei tourism projects is aimed at strengthening the regional economy in order to build economic resilience, create jobs and boost the tourism industry while lessening the impact of the Covid-19 pandemic.
Prior to COVID-19, tourism and hospitality were major contributors to Te Tai Tokerau's economy, contributing significantly to the region's GDP.